Fish Tugs of the Greatest Lake
IONE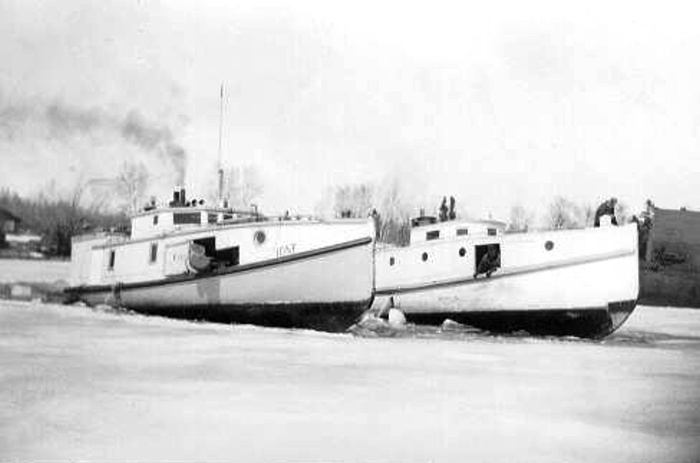 Built at Bayfield, Wis. in 1936, for Ole Frostman, the 42 ft. x 10 ft. vessel was originally powered with a Graymarine gas engine. During the winter of 1936-37 a 30-36 hp. Kahlenberg oil engine was taken across the ice to Madeline Island and installed in the boat while hauled out at Big Bay. In the 1960s the boat was sold to Herman Johnson, Sr., Bayfield. The Kahlenberg was replaced with a GM 6-71 diesel. The boat was later sold out of the fishery, converted to a yacht, and taken to Florida.
Five days before Christmas, 1936, Frostman took the IONE out on the lake to go to the help of Henry Johnson Jr., whose boat was disabled and drifting near Hermit Island. Arden Saunders, Sr., joined Frostman on the mission, but along the way, he apparently fell, unnoticed, from the deck of the boat. Saunders left a wife and five children behind; six years later, his son Jim became the first Bayfield boy killed in World War II.
Photo: IONE (left) and OLD GLORY (right) breaking out of the dock at Big Bay, Madeline Island, April 19, 1951.
All contents copyright 2002-2016, Harvey Hadland and Bob Mackreth