Fish Tugs of the Greatest Lake
RICHARD E.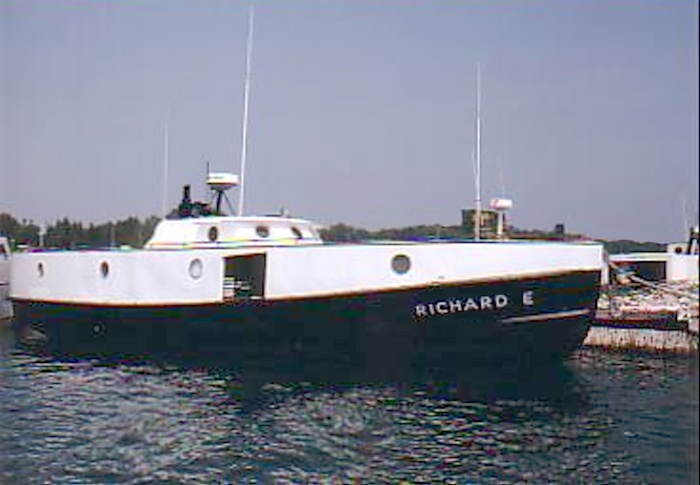 RICHARD E. 246795 Built by Burger Boat Co. in 1944, the first boat to be built following WW II contracts a the yard.. The 50 ft. x 14 ft. steel hulled vessel was equipped with a 75-90 Kahlenberg oil engine taken out of the wood hulled tug W.H. PUGH. The stern pilothouse and roof just forward of it were of wood construction. Owner, Frank Eichler, Kenosha, WI, had the boat until 1958, when it was sold to James R.[Ray] McDonald, Racine, WI. McDonald sold the boat to Reuben Peterson, Harbor Beach, MI in 1959. Peterson Had the boat until 1974, when it was sold to Robert Peterson, Manistique, MI.
In 1979 the boat was again sold, this time to another Peterson, Hector Peterson, Fayette, MI. Robert Peterson had replaced the Kahlenberg with a GM 6-110 diesel. Joel Peterson, Fairport, MI, son of Hector, replaced the GM with a 250 hp. Cummins diesel, and also removed the stern house and built a pilot-house midship.
Above: Richard E. in 1987 with the midships pilothouse. Below, undated photo on a classic northern morning.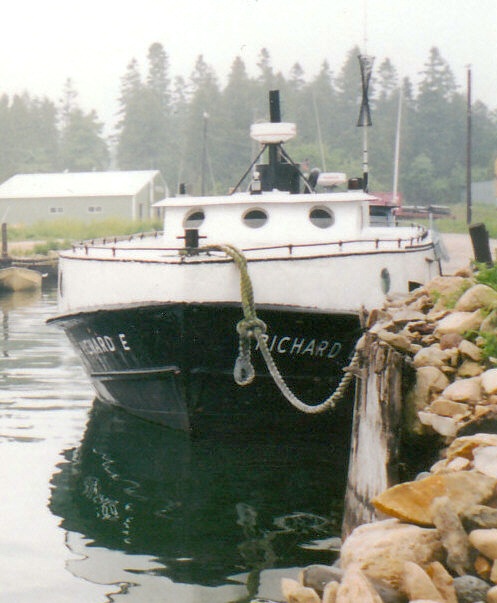 All contents copyright 2002-2016, Harvey Hadland and Bob Mackreth