Fish Tugs of the Greatest Lake
FRANKLIN D. ROOSEVELT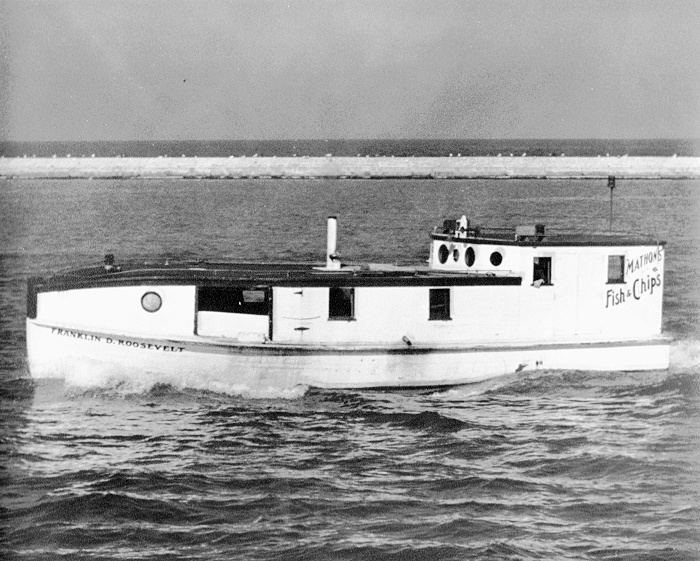 FRANKLIN D. ROOSEVELT .233294. Built by Peterson Boat Works in 1934, the 40 ft. x 12 ft. boat was equipped with an 85 hp. Buda gasoline engine. Owner George Vehos, Waukegan, fished the boat for a few years, then sold to James Garrison, Waukegan, in 1939. In 1965 the boat was observed at Waukegan, being used as a scuba dive boat.
Steve Ceskowski, of an old Waukegan fishing family, recalls,
"The FRANKLIN D. ROOSEVELT was owned by brothers George & Mike Vehos. The advertising on the house is for fellow Greek restauranteur Mathon Kyritsis's start-up restaurant "Mathon's Fish & Chips" Later the restaurant evolved into one of Chicagoland's premier freshwater fish restaurants, "Mathon's."
"Mathon was a tireless promoter and investor in Lake Michigan commercial fishing, serving on the Great Lakes Fishing Commission. I spent many a Friday afternoon cleaning fresh perch for that evening's special "whole fried perch".
"Mike Vehos, and later his son Manny, operated a smoked fish business on Waukegan's lakefront until the 1970s. Manny later moved to Florida and ran a shrimper named "Venus" out of Fort Myers."
Below: closeup of unusual detail- an advertisement.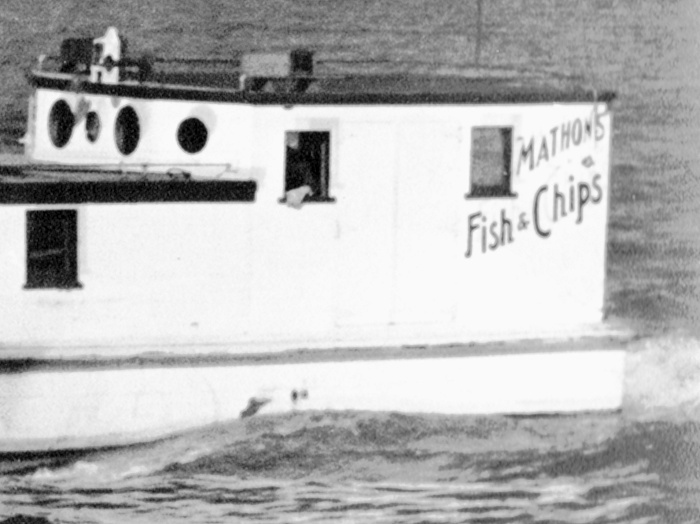 All contents copyright 2002-2016, Harvey Hadland and Bob Mackreth