Fish Tugs of the Greatest Lake
CHEERIO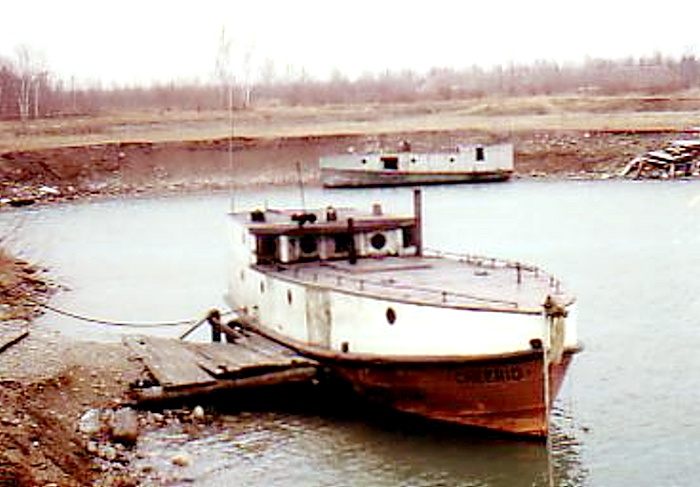 CHEERIO 237885 Built by Sturgeon Bay Shipbuilding Drydock Co. in 1935 from a design by Walter W. Haertel. The 40 ft. x 12 ft. steel hulled vessel was equipped with a 30-36 Kahlenberg oil engine. Launched on Friday Dec. 13 . Taken to Kenosha Wis. by owner Richard Jacobson the boat was lost on Jan. 17, 1936 attempting to get back into Kenosha during a severe northeast blow. The boat foundered in the heavy ice floe off the Harbor and the entire crew of three, including the owner drowned.
Later recovered, the boat had many owners: Theodore F. Muhlenbeck, Kenosha, 1939-1947; Wallace Chambers, South Haven, Mich. 1949-1955; Lloyd Wissman, Montaque, Mich. 1957-1960; Stanley Oronowski, Port Austin, Mich. 1961-1963; Stanley Rochefort, Alpena, Mich., 1964-1976; Clifford Biddick, Charlevoix, Mich. 1977-1980; Waters Edge Marine, Charlevoix, 1981-1989; Detour Marine Service, Detour, Mich. 1994; South Florida Launch Towing, Miami Beach, Fla. 1999
The Cheerio at Rockport Harbor, north of Alpena, Mich. in 1966.
All contents copyright 2002-2016, Harvey Hadland and Bob Mackreth