Fish Tugs of the Greatest Lake
ALLISON B. (VALPURI, PEGGIE SUE, TNT)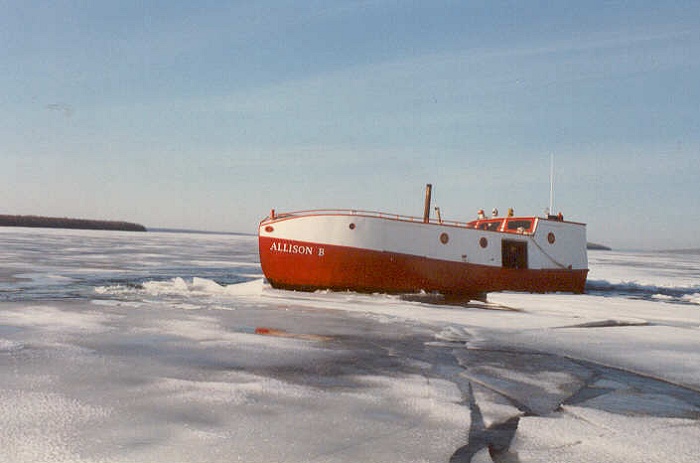 ALLISON B. 260494 Built as the VALPURI by Portage Lake Welding Machinery Co., Hancock, MI in 1949, for Urho Keranen, Ontonagon, MI. The 39 ft. x 12 ft. steel hulled vessel was equipped with a GM 6-71 diesel. After laying ashore abandoned, with the wood house rotted, and the machinery in disrepair, the boat was bought by William Boutin, Bayfield, WI in the late 1970s. The house was rebuilt, and the main engine replaced with a 165 hp Cummins diesel taken from another boat.
The name was changed to ALLISON B. and Ronald Boutin, a brother of William Boutin, fished with the boat until 1985. The boat was then sold to Thomas Newago. Newago renamed her PEGGIE SUE, reworked the wood house in steel, and replaced the Cummins with a GM 6-71 diesel. In the mid 1990s the boat was seized by the Federal Government, hauled out at Ontonagon, MI, and auctioned off. Michael Peterson, Bayfield, WI was the high bidder. The boat is still in use, working out of Bayfield, bearing its fourth name, TNT.
Photo: Allison B breaking ice, April 1982.

All contents copyright 2002-2016, Harvey Hadland and Bob Mackreth