Fish Tugs of the Greatest Lake
RONNIE (ALLISON B. II, KATHERINE)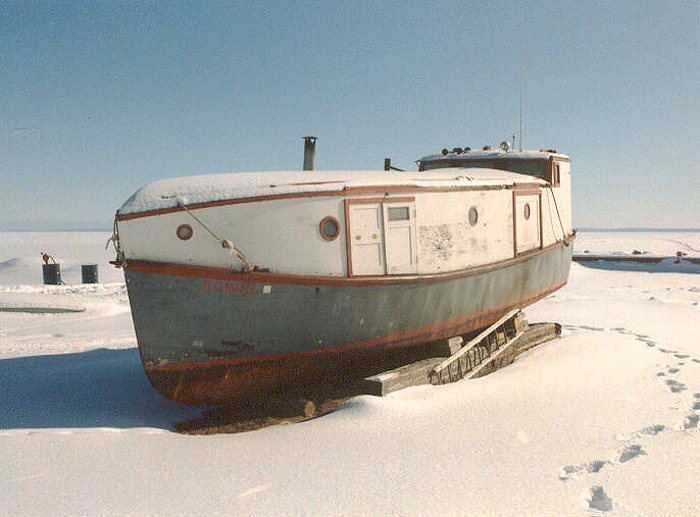 Originally a pound net boat, the 32 ft. steel hulled vessel was converted to a gill-netter by an owner in the Houghton, MI area. In the early 1980s Roy Nelson, LaPointe, WI bought her and fished for a number of years, and sold to Ronald and James Boutin, Bayfield. The boat was then re-named ALLISON B. II and re-powered with a Perkins diesel. By the mid 1990s the boat had been ashore for a few years, and was eventually sold to Alan Newago, and was taken back to the Houghton, MI area.
Update, June 2002: ALLISON B.II (ex.RONNIE) is now owned by Neil Malmgren, Baraga, MI, Malmgren bought her from The Newago Fisheries, at Portage Entry, MI., who had purchased her from Ronald Boutin. Malmgren has actually owned the boat for some time. He has changed the name of the boat to KATHERINE.
Photos: RONNIE, February 1985.
All contents copyright 2002-2016, Harvey Hadland and Bob Mackreth