Fish Tugs of the Greatest Lake
MY BUDDY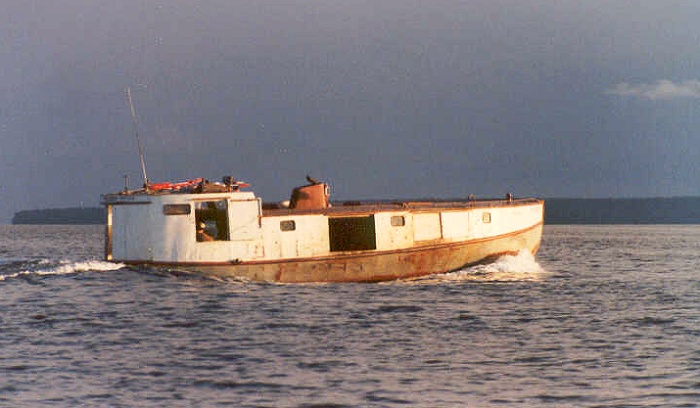 Built by Marinette Marine Corp. in 1946, the 42 ft. x 13 ft. all steel vessel was one of three identical hulls, designed by A.M. Deering NA, Chicago. Equipped with a GM 3-71 diesel, this particular boat is believed to have been owned by Steinhoff Severson, Munising, Mich., and later sold to an owner at Brimley, Mich.
After laying idle for many years the boat was bought by Cecil Peterson, Bayfield, Wis., in the early 1970s. Peterson re-powered with a 250 hp. Cummins diesel, sold the boat to an operator in the Houghton, Mich. area, repurchased her, then sold her to Douglas Babineau, Bayfield. The boat was then sold to Alfred Holzer. The engine was removed, and the future of the boat is in doubt.
Photo: MY BUDDY off Bayfield.
All contents copyright 2002-2016, Harvey Hadland and Bob Mackreth