Fish Tugs of the Greatest Lake
CINDY MARIE (LINDA MAE)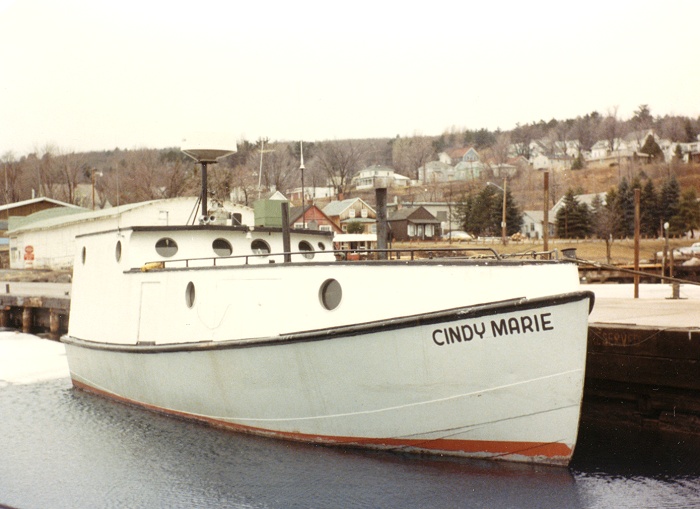 Built as LINDA MAE by T.D. Vinette Company, Escanaba, Mich., in 1963, for George Stark, Cornucopia, Wis. The 38 ft. x 13 ft. steel hulled vessel was equipped with a 120 hp. Graymarine Model 6-330 gas engine. The boat was trucked to Cornucopia, and passed through Bayfield the day President John Kennedy was assassinated.
In the late 1960s the boat was sold to James Erickson, Bayfield, re-named CINDY MARIE, and re-powered with a GM 6-71 diesel.
Long-time Bayfield fisherman Duane Peterson recalled one cold trip on the boat during those years:
"It was the the end of December. I was on the Cindy Marie, Jim's* boat. We were outside Raspberry Island light. We came by the light-- it was dark, but we could see the light flashing. When we got back to Bayfield we had ice from port to starboard, stem to stern. People at the dock had to hammer the ice off the doors so we could get out. Then Jim went up to Bates'** and got a jug. I don't remember going home."
* Jim Erickson.
** Bates' Bar, a Bayfield landmark.
In 1998 Dean Halvorson, Cornucopia, bought her from Erickson, and as of 2013, the boat was still in active use.
Photo: above, CINDY MARIE at Bayfield, March 1981; below, at Halvorson Fisheries, Cornucopia, October 2011.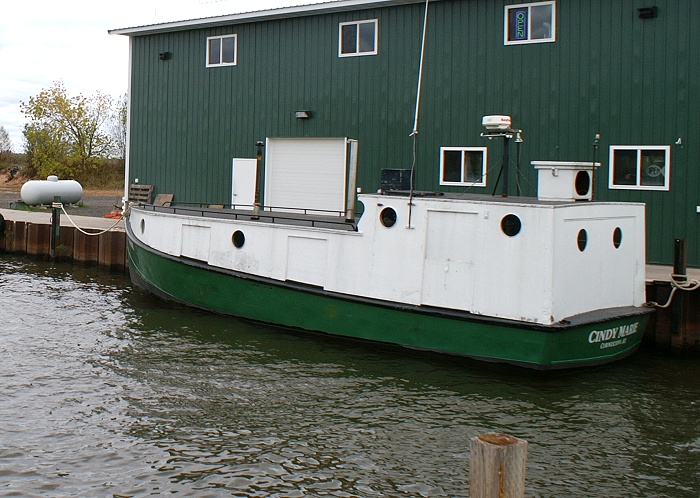 All contents copyright 2002-2016, Harvey Hadland and Bob Mackreth