Fish Tugs of the Greatest Lake
TWIN DISC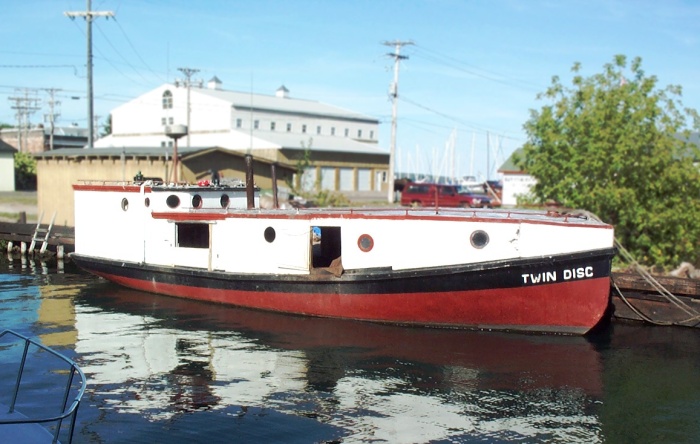 Built by Peterson Boat Works in 1937, for Twin Disc Clutch Co. Racine, WI. 45 ft. x 12 ft. 8 in. vessel was equipped with a 6 cylinder 100 hp. Model H, Cummins diesel. Used to test and demonstrate marine reverse and reduction gears manufactured by Twin Disc, the vessel was offered for sale in June of 1939 for $4500.
After being leased to several fishermen the boat was owned by Fred Hauer, Chicago , from 1941 to 1944. Irwin Pulda and Walter Barzditis, Racine,owned the boat from 1944 to 1950. With the breakup of their partnership Barzditis took over ownership and moved to Houghton, MI.
Following the death of Barzditis, shortly after moving to Michigan, Ernest J. Erkkila, Lake Linden, MI bought the boat, and it was owned by the Erkkilas until 1982, when it was sold to Martin Peterson, Bayfield, WI.
Photo: TWIN DISC at Bayfield Fish Company slip, 2001.
All contents copyright 2002-2016, Harvey Hadland and Bob Mackreth