Fish Tugs of the Greatest Lake
SOUTH TWIN (ELIZABETH ANN)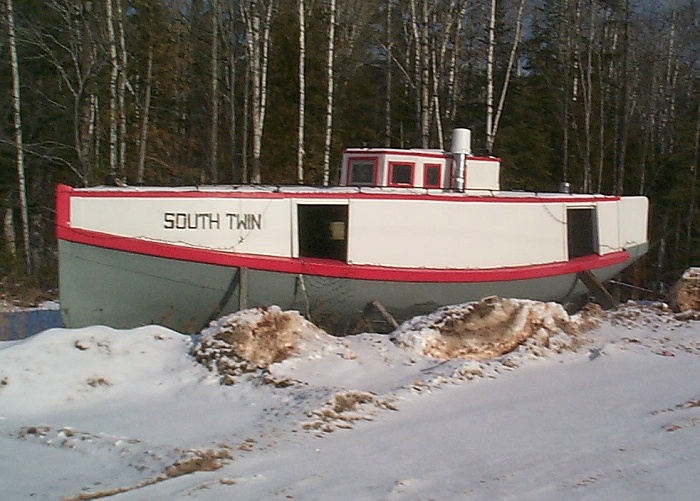 Built at Bayfield, WI in 1938 for Lenus Jacobson, by Even Christensen. The 42 ft. x 11 ft. vessel was equipped with a Buick car motor. In the early 1940s a Chrysler Crown marine gas engine replaced the Buick.
When Jacobson died in September 1950 the boat was sold to Ernest LaPointe. In 1964 the boat was ashore on the marine railway at LaPointe Bros. Fishery in Bayfield, and no longer in use. Sold, it was taken to the Grand Portage, MN area and used as a dive boat for a short time. Back in Bayfield again, the boat was bought by Robert Boutin and put back into the fishery. In the early 1980s Boutin sold her to Thomas Newago.
In 1986 Mark Simmons bought the boat, changed the name to ELIZABETH ANN, and re-powered with a GM 4-53 diesel.
In 1995 Wilfred Peterson bought the boat, removed the engine and electronics, and sold the boat to Cecil Peterson who has it set up outside his grocery market at Red Cliff. The name SOUTH TWIN has been restored to the vessel.
Photo: SOUTH TWIN at rest, alongside Highway 13 in Red Cliff.
All contents copyright 2002-2016, Harvey Hadland and Bob Mackreth