Fish Tugs of the Greatest Lake
DONNA BELLE (LILY MAE)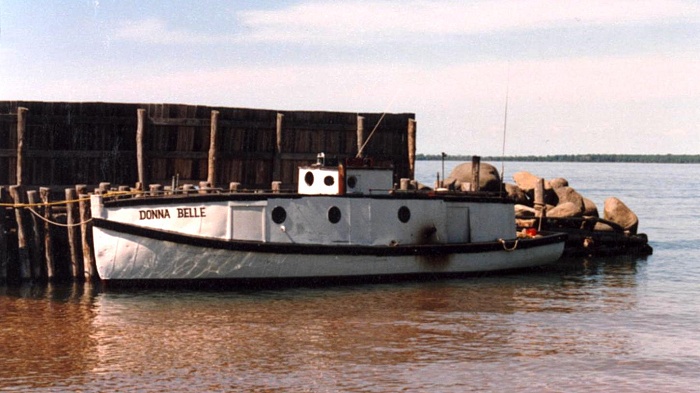 Originally named the LILY MAE, this boat was built at Bayfield in 1946 for E. Theodore Nies, Bayfield, by Frank Muhlke; the 40 ft. vessel was equipped with a 120 hp. Graymarine Model 6-330 gas engine. In the late 1960s the boat was owned by Soren Peterson, and operated by Reuben Gustafson.
Next acquired by Jack Erickson, the boat was re-powered with a GM 6-71 diesel; re-named DONNA BELLE (alternatively DONNA BELL) , and is was used well into the 2000s by Jack's son Martin Erickson, one of the few remaining pound net fishermen on Lake Superior. In use, he would typically tow a smaller, open boat behind the DONNA BELLE, necessary for access to the pound nets.
For many years, the DONNA BELLE was regularly moored at the restored Hokenson Brothers Fishery in the Apostle Islands National Lakeshore, providing park visitors with the opportunity for a close look at one of the region's remaining fishing boats at work. The arrangement was eventually discontinued, however, and the boat was finally retired in 2012. It now sits on prominent display on the Erickson farm on County Road J in Bayfield's orchard country.
Photo: top, DONNA BELLE at her long-time mooring, the restored Hokenson Brothers Fishery, Little Sand Bay; below, on shore, 2016.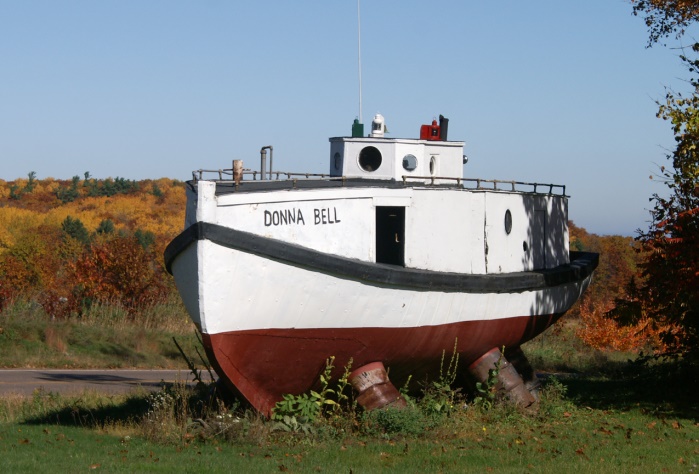 All contents copyright 2002-2016, Harvey Hadland and Bob Mackreth