Fish Tugs of the Greatest Lake
Amid the fiberglass sailboats and opulent pleasure craft in the harbors of Lake Superior, visitors can still see examples of a classic product of the boatbuilder's art. Hardworking and unpretentious, the Great Lakes fish tug evolved in response to the arduous conditions of the region's commercial fishery.
The beauty of these boats may not be evident to all observers, but those who understand that "form follows function" will see the elegance of their designs. The soundness of their design is shown by the fact that nearly all the boats seen at work today are more than half a century old.
This web page is the product of years of research by Harvey Hadland, of Bayfield, Wisconsin. Harvey started his working life as a commercial fisherman when he and his brother Clifford began fishing with their father, Chris Hadland, in 1944. The camp on Rocky Island where Harvey and Cliff fished is now listed on the National Register of Historic Places. Their boats included the QUEEN OF BAYFIELD, the STRANGER, and the VAGABOND. Harvey retired from fishing in 1988, and continued to gather information on fishing boats and the Great Lakes commercial fishery until his death in May, 2013. Harvey was one of the world's true gentlemen and will be missed by all, but this website will carry on as a tribute to his work and to the men and women of the Great Lakes fishing industry.
An account of Harvey's early years at his family's fish camps on the Apostle Islands can be found here: Sixty-One Years.
Local historian Bob Mackreth, of Washburn, Wisconsin, served as editor and web designer, and continues to maintain the page. To sample Bob's writing, visit his homepage.
Much of the information on this site comes directly from Harvey's long experience as a working fisherman. Other material has been gathered from a variety of sources, including the long-defunct magazine The Fisherman, published by Claude Ver Duin, Grand Haven, Michigan, and Pauls Netting Gazette, a circular put out by Pauls Fish Net Co., Chicago, in the 1920s and 1930s.
Valuable information has been provided by Robert C. Grunst, of St. Paul, Minnesota, and Eric Bonow, of Superior, Wisconsin. The late Clarence Sellman, of Manistique, Michigan, a great marine historian, contributed a wealth of information.
This web page will always be a work in progress. Our hope is that presenting this compilation on the Worldwide Web will encourage others to contribute additional information they may have about the subject. Please submit comments, corrections, or additional information to bobmackreth@gmail.com.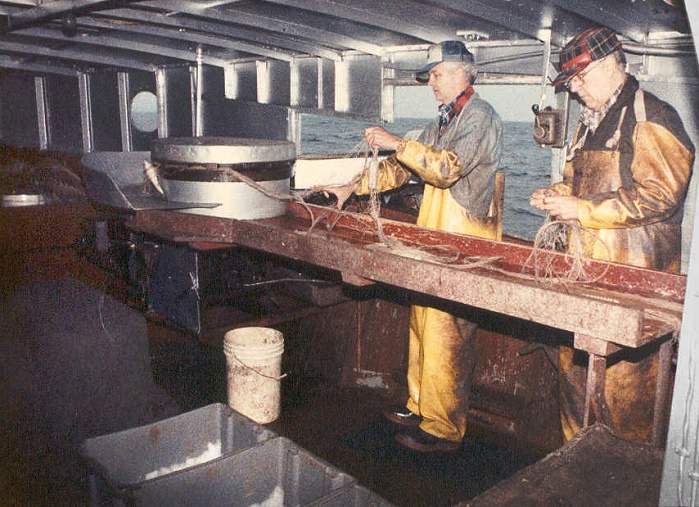 Cliff (left) and Harvey (right) Hadland, picking fish on board the Vagabond, date unknown.
(Hat tip to u/The_Crass-Beagle_Act)
All contents copyright 2002-2016, Harvey Hadland and Bob Mackreth